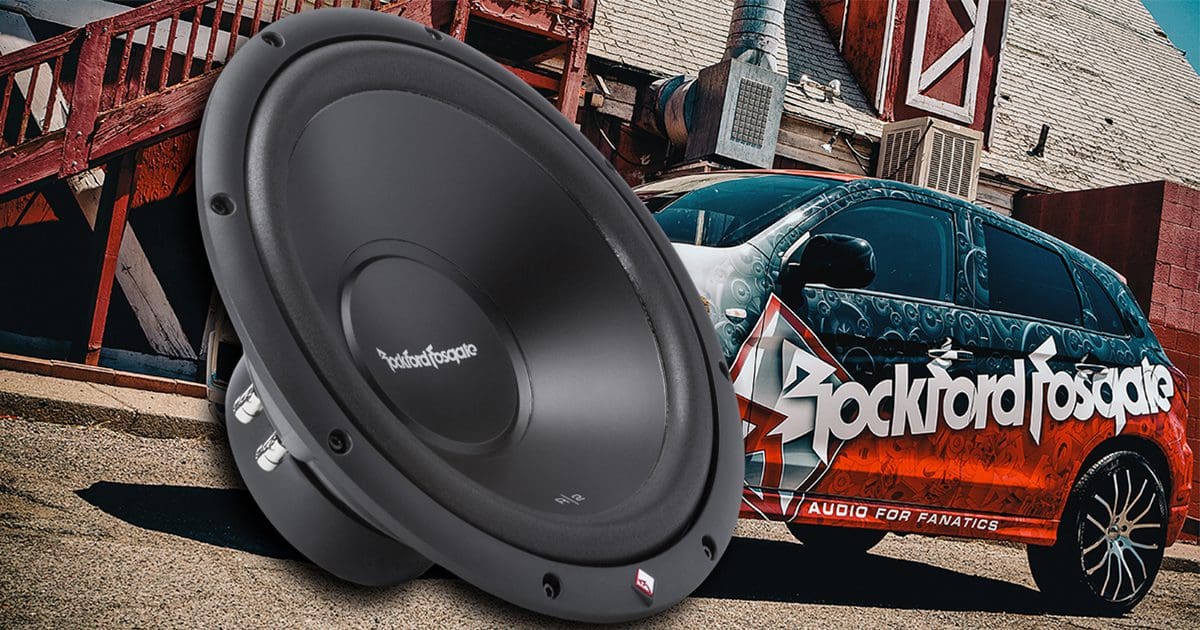 Adding a subwoofer to your car audio system is one of the best ways to improve the way your music sounds. If you are looking for a high-quality subwoofer at an affordable price, the Prime Series R2D2-12 from Rockford Fosgate is an excellent choice. This dual-voice coil 12-inch subwoofer is rated to continuously handle 250 watts of power with peaks at 500 watts. Best of all, you know you're getting a subwoofer that will sound great and deliver clean, clear bass with minimal distortion.
Physical Features of the Rockford Fosgate R2D2-12
The R2D2-12 is based on Rockford Fosgate's StampCast four-spoke, stamped-steel basket design. The basket design uses large, rolled edges on the windows to add significant structure and ensure that the motor assembly is secure and solid, giving you the benefits of a cast design without the expense.
The basket also features vents in the base where it's mounted to the top plate. These vents improve power handling and driver linearity by allowing air under the spider to enter and escape around the voice coil as the cone moves forward and rearward. Features like spider venting are usually reserved for much more expensive drivers. There's also a sizeable cooling vent in the pole piece to allow airflow from under the dust cap for an extra boost in power handling and performance.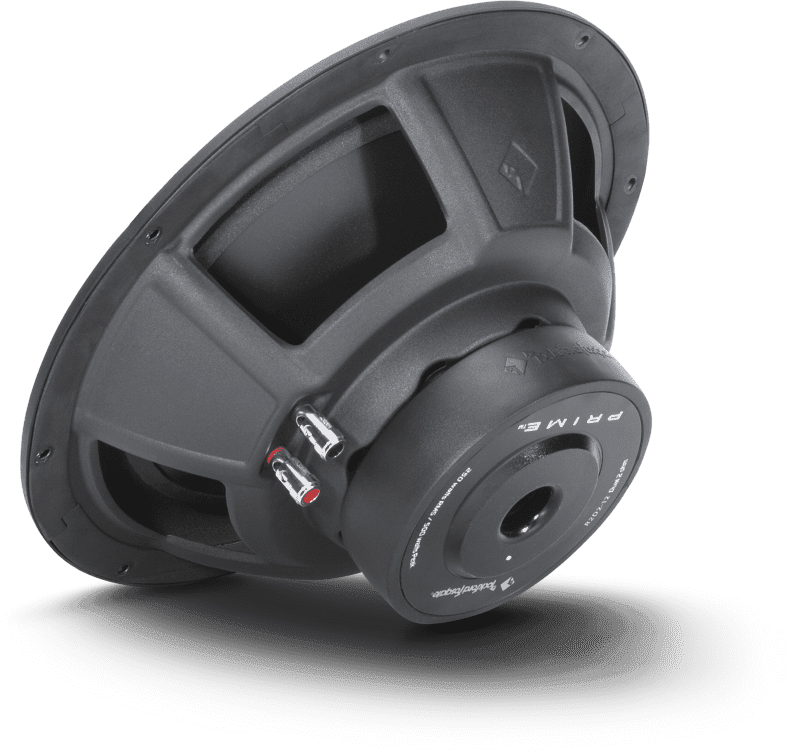 The voice coil former is made of aluminum to help extract heat from the dual windings, while most woofers at this price point use plastic. The R2D2-12 has a pair of 2-ohm voice coils that can be wired in series or parallel or driven by separate amplifier channels. If you need a pair of 4-ohm coils on your sub, the R2D4-12 is the answer.
Speaker connections are made via a pair of spring-loaded terminals on each side of the motor assembly, with the voice coil's tinsel leads sewn to the spider to keep them from slapping the cone or spider at high excursion levels. This is another feature that's typical of much more expensive subwoofers.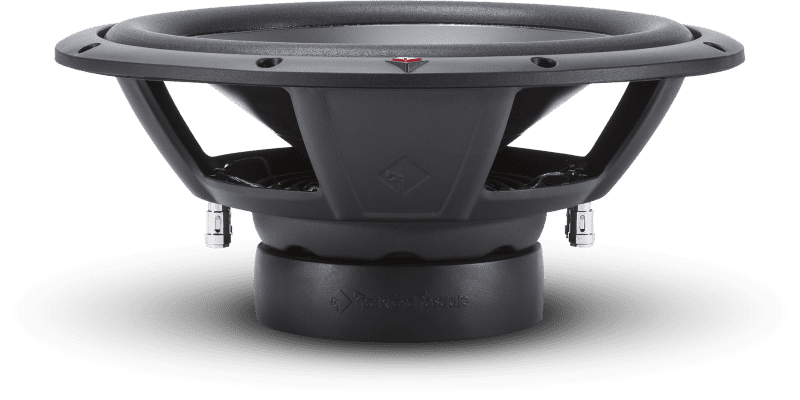 The cone is constructed from injection-molded polypropylene with mica added for improved rigidity and thermal stability. An inverted dust cap in the center of the cone keeps dust and debris out of the voice coil gap. For compliance, the poly-cotton spider uses a linear design and a half-roll, poly-foam surround treated with a UV inhibitor to ensure longevity and reliability. A semi-rigid, injection-molded trim piece on the mounting flange provides a clean look. The connection between the spider, cone and surround has been reinforced with a multipoint high-temperature, high-strength neck joint bonding technique.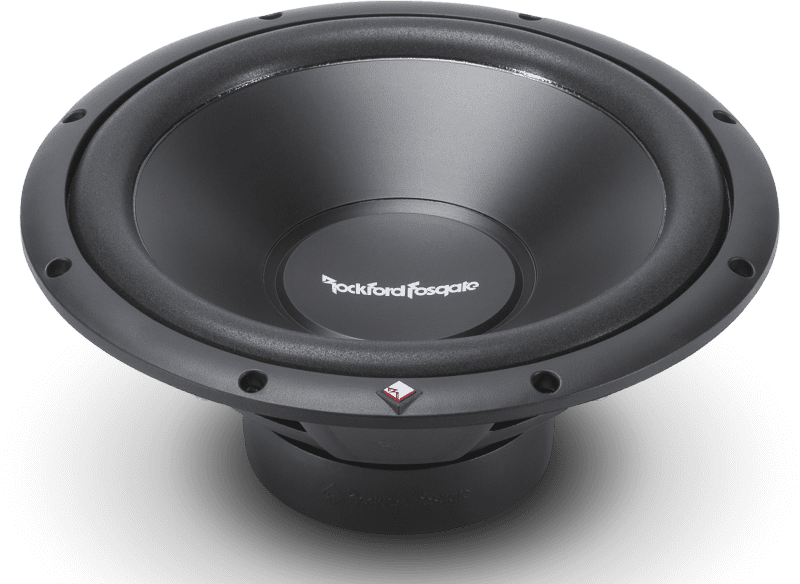 Prime-Series Subwoofer Applications
When looking at the Thiele/Small parameters, the first thing that stands out is the Xmax spec of 6.4 mm. Unlike most subwoofers that offer an Xmax calculation based on the height of the voice coil and the top plate, Rockford Fosgate's specification is based on the measured excursion level that produces less than 10% distortion as measured by a laser-based Klippel transducer analysis system. This method considers compliance and motor strength changes for a much more realistic maximum excursion value. Very few companies are this honest and forthcoming with their specifications – quite impressive.
A second important observation is that the driver is impressively efficient. If you have 250 to 300 watts of power, there's no sense running a giant subwoofer with a heavy voice coil and cone assembly. Rockford Fosgate has optimized this driver to deliver excellent output from minimal power. This is yet another sign that this company knows exactly what it is doing.
In terms of enclosure design, I modeled the suggested 1.02-cubic-foot sealed and 1.79-cubic-foot vented enclosures in BassBox Pro. These enclosures will deliver impressive output from modest power levels, making them perfect for systems with smaller amplifiers or where the electrical system current draw might be a concern in a hybrid or electric vehicle.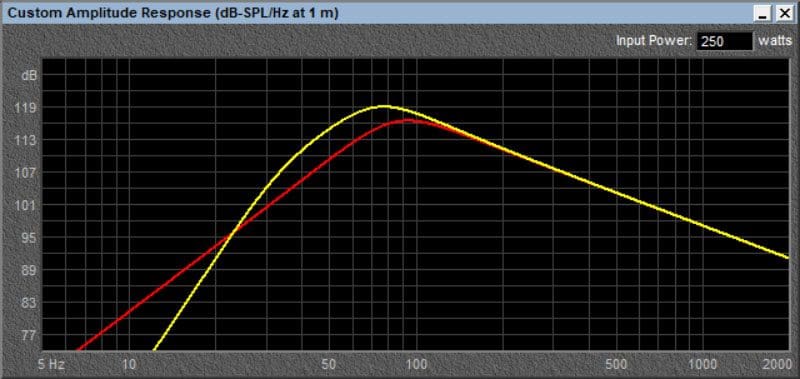 Upgrade Your Car Stereo with a Rockford Fosgate Subwoofer!
If you're looking for a subwoofer system for your car or SUV, drop by your local authorized Rockford Fosgate retailer and ask about the 12-inch Prime Series R2D2-12 subwoofers. We think you'll be very impressed with their performance and value. To learn more about Rockford Fosgate's automotive, powersport, marine and motorcycle products, visit their website. Also, be sure to follow them on Facebook, Instagram and YouTube.
This article is written and produced by the team at www.BestCarAudio.com. Reproduction or use of any kind is prohibited without the express written permission of 1sixty8 media.